SWOT Analysis Sample
SWOT analysis sample is a technique whereby a business' internal and external environment is assessed to determine its strengths and weaknesses. Those factors that are affecting the business internally are Strengths (positive) and Weaknesses (negative), denoted by the letters "SW" in the acronym, and those factors affecting a business externally are opportunities (positive) or Threats (negative), denoted by the letters "OT" in the acronym. Determining what the factors are, thus establishing a sort of blueprint, is known as SWOT analysis.
SWOT analysis sample and your business
So let's say, for example, that your business needs to review its marketing strategy for its established clothing line. Using SWOT analysis, you first determine what your business' own strengths and weaknesses are within its marketing department and within the strategy overall.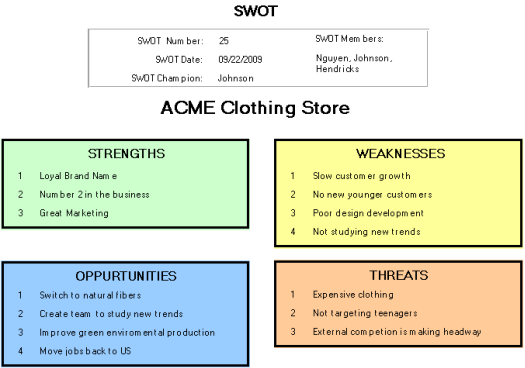 Strengths - SWOT analysis sample
First, focus on Strengths. What within your marketing strategy is an advantage for you? Let's say, for instance, that you are already doing well with your particular brand in that you are functioning at number two. You also have an advantage over other competitors in that customers are very loyal to your brand so that you're not likely to lose that base.
Weaknesses - SWOT analysis sample
Next, let's look at Weaknesses. While a strength is that your brand has been around for a while and has a very loyal customer base, you haven't done so well at bringing in new customers from new demographic areas, such as younger consumers. In addition, because you can count on your basic customer base to continue to buy your brand, you haven't worked very hard on developing new designs or tapping into new trends to bring in new customers, while still meeting the needs of your established customer base at the same time.


SWOT Manager with SWOT Report Generator.



SWOT Manager lets you...
Simply create SWOT reports with one click.
Keep, maintain and manage all of you SWOT reports in one central location.
Easily enter SWOT data.
Eliminate formatting issues.
Choose from four different professional SWOT reports.
Standardize your company's SWOT format.
Quickly review old SWOT data and compare to new SWOT data.
Track your SWOT history.
Quickly copy old SWOT reports to new SWOT reports and then easily edit.
There are many drawing software solutions that let you create SWOT templates. With all of these programs, you spend unnecessary time formatting the SWOT template to fit your data. This includes learning the program, understanding the formatting properties and then taking the time to create the SWOT. The biggest problem with creating professional looking SWOTs is the formatting time. SWOT manager does this for you.
SWOT Manager is designed specifically for SWOTs. You don't need to worry about formatting. No need to worry about creating SWOT templates. This software is so easy. Just enter your data and click a button to create your SWOT report. You will be up and running in less then 10 minutes.
SWOT Manager automatically saves as soon as you enter data. No concerns about constantly saving your work.
In addition, SWOT Manager includes spell checking for easy editing.
You may have multiple people at your company creating SWOT reports and SWOT templates. Most likely each person selects a different approach to creating the SWOT model. This is a waste of time with unnecessary expenses. With SWOT manager your company standardizes the format and all SWOTS are assessable from SWOT Manager.
Place the file on your server and multiple people can input their SWOT data into SWOT manager. Multiple people can access SWOT manager at the same time. You pay no additional license fees for multiple users at your location.
Your Satisfaction is Guaranteed.
Within 30 days, if you are not satisfied with SWOT Manager, I will refund your money.
(Created by Quality Assurance Solutions)
Opportunities - SWOT analysis sample
What opportunities does your business have? Your company needs to place emphasis on domestic job growth. You need to improve "green" jobs, and environmentally friendly practices. You can do this by manufacturing domestically and stop sending jobs overseas. In addition, the company could switch to natural fibers such as cotton that rely less on fossil fuels.
Threats
What threats does your company face? Your clothing is more expensive because of your brand name marketing. This could reduce customer in the future. Your clothing does not target teenagers. Teenagers turn into adults and they may forget your name. External competion is making headway.
---
Afer reviewing this page on SWOT analysis sample, see here for step by step instruction on making a sound SWOT.
---
---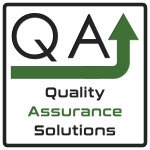 Quality Assurance Solutions
Robert Broughton
(805) 419-3344
USA
email
---