Training Presentation

Total Productive Maintenance
Save Time, Train, and Implement Total Productive Maintenance (TPM) with this proven system...
Do you need to teach the Total Productive Maintenance methodology to your company?
Do you need to save time from creating the TPM presentation?
Do you want to present a professional PowerPoint that will impress your employees, peers and the management team?
Do you need to assure equipment continuously runs and reduce breakdowns?
Do you want to involve operators, supervisors and your maintenance team in TPM synergy?
This professional presentation on Total Productive Maintenance combines the TPM tools, 5S, OEE (overall equipment effectiveness), 8 pillars, Autonomous and Planned maintenance into a highly detailed training tool. This PowerPoint includes a step by step implementation process of TPM. If you created this presentation yourself you could easily spend 40 to 60 hours just making the slides. See below for pictures of some of the slides. Use this PowerPoint and assure you don't forget the important TPM strategies during your TPM training.
| | |
| --- | --- |
| | After purchase, you will download this product, no waiting. Your Satisfaction is Guaranteed. Within 30 days, if you are not satisfied with this product, I will refund your money. |
Description
As a company-wide initiative, Total Productive Maintenance (TPM) maximizes the effectiveness of equipment. The TPM program significantly decreases labor and capital productivity while, at the same time, increases employee morale and job satisfaction. TPM brings maintenance into focus as a necessary and vitally important part of the business. Targeted at all levels of the organization, TPM and its 8 Pillars provide the necessary supporting process and tools to achieve zero defects, zero breakdowns and zero accidents.
How To Use the PowerPoint Training Presentation
Deliver this professionally-developed presentation to your entire staff as a 1-2 hour briefing to teach the TPM system. Use the slides in a workshop for managers and staff of the organization who need to setup a system of Total Productive Maintenance
You may customize this Microsoft PowerPoint presentation to your specific needs and preferences. Add slides, combine them with our other presentations, it's up to you. The only restriction is that the presentation cannot be resold without our prior written consent.
Objectives
Understand the concept and management philosophy of TPM as a foundation for Lean Transformation
Learn the 8 pillars of TPM activities, TPM implementation strategy, roadmap and the step-by-step approach
Learn the TPM tools and identify and eliminate production loss through TPM implementation
Learn how to kick-start TPM deployment with Autonomous Maintenance, Planned Maintenance, Focused Improvement and Education & Training activities to improve equipment reliability
Contents
Overview of TPM
TPM Definition
TPM Principles
Characteristics of TPM
TPM is a Paradigm Shift
Why TPM?
TPM Goals
Eight Major Pillars of TPM
TPM Benefits
Total Productive Maintenance Foundations – 5S & Visual Management
What is 5S?
Meaning of 5S
Visual Management
5S & Equipment Maintenance
What Do 5S & TPM Have in Common?
TPM Tools
Small Group Activities
Suggestion System
Fuguai Tagging
One Point Lessons
Activity Board
Equipment Loss & Overall Equipment Effectiveness (OEE)
Loss Structure in Production Activities
Six Big Equipment Losses
Three Key Components of OEE
Overall Equipment Effectiveness
Strategies for Zero Breakdowns
The 8 Pillars of TPM
Autonomous Maintenance
Planned Maintenance
Early Equipment Management
Focused Improvement
Quality Maintenance
Education & Training
TPM in the Office
Safety & Environmental Management
Autonomous Maintenance
Goals of Autonomous Maintenance
Three Key Tools for Autonomous Maintenance
Example of Autonomous Maintenance
Example of Autonomous Maintenance Activity Board
7 Steps of Autonomous Maintenance
Planned Maintenance
How to Achieve the Natural Life Cycle of Equipment
Main Activities of Planned Maintenance
6 Steps of Planned Maintenance
Improving Equipment Reliability through Integration of Autonomous Maintenance & Planned Maintenance
Integration of Autonomous Maintenance, Planned Maintenance and Education & Training
Implementing Autonomous Maintenance with Planned Maintenance
TPM Implementation
TPM Master Plan
Role of Pillar Champion
Example of TPM Pillar Activity Board
12 Steps of TPM Implementation
Additional TPM Activities
Selection of Pilot Area
How to Sustain TPM
Critical Success Factors for TPM Implementation
Slide Examples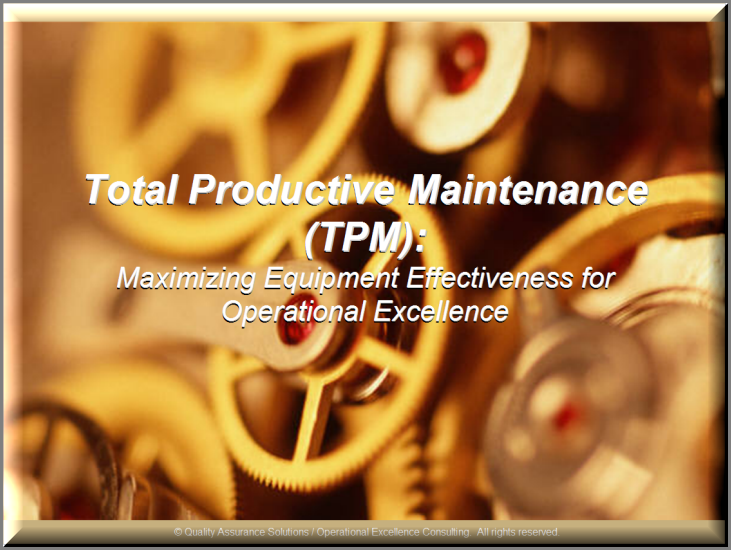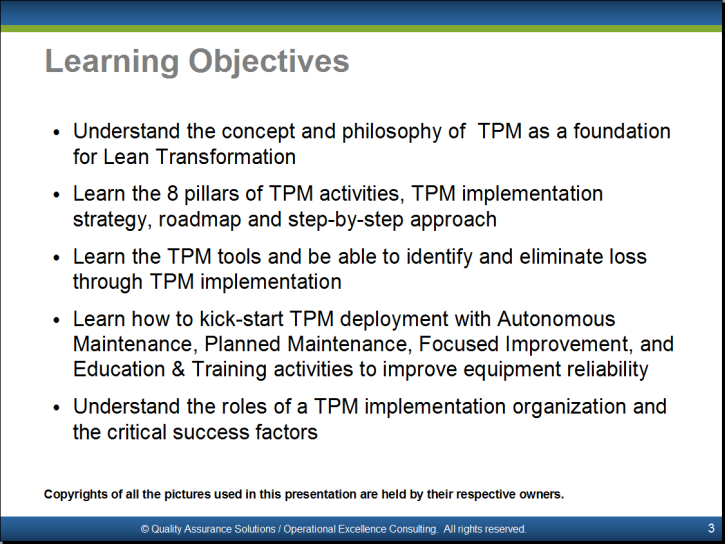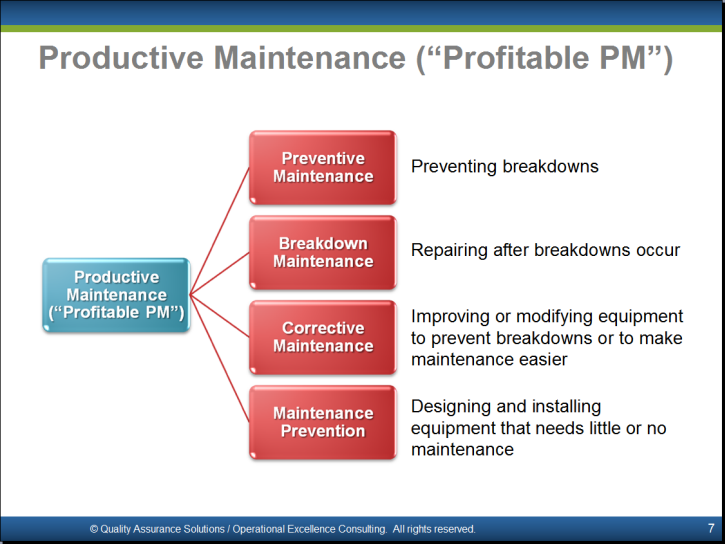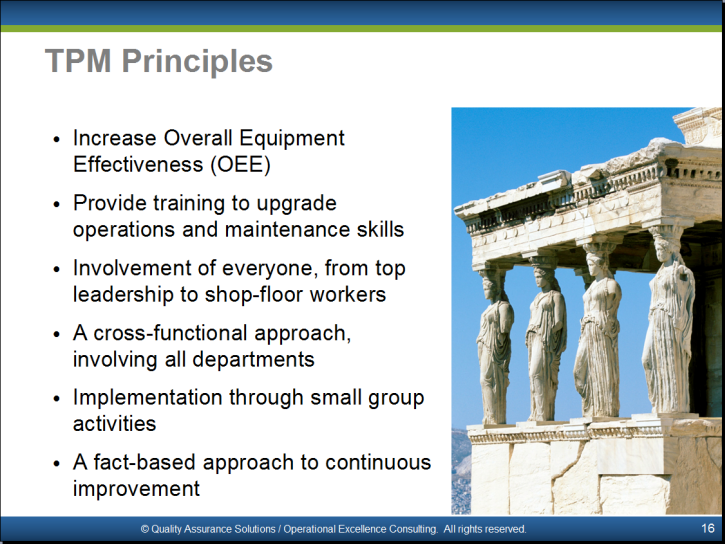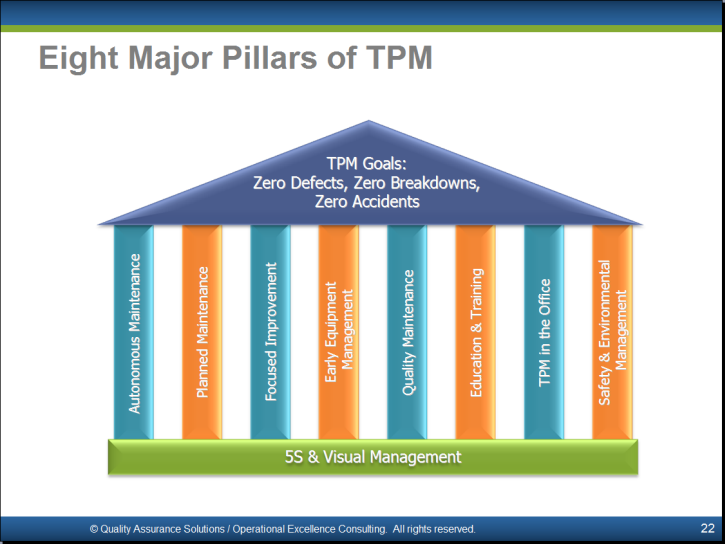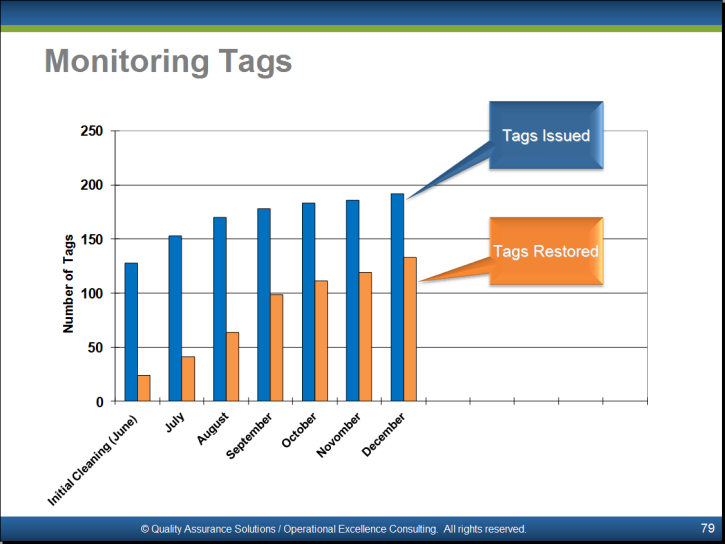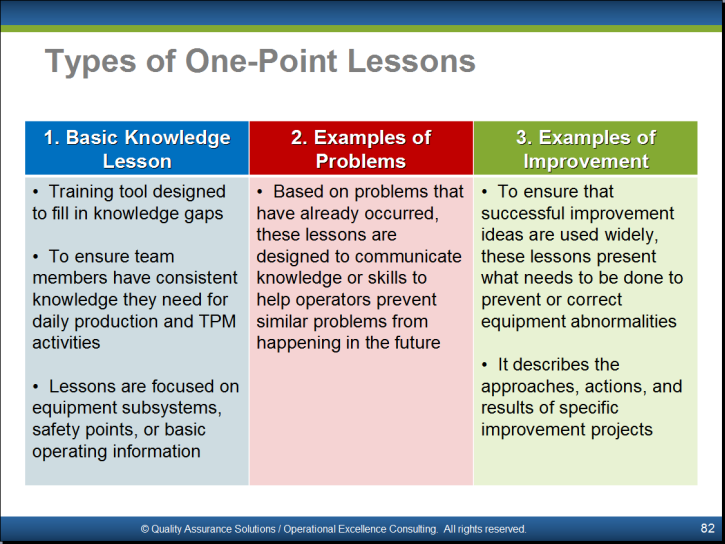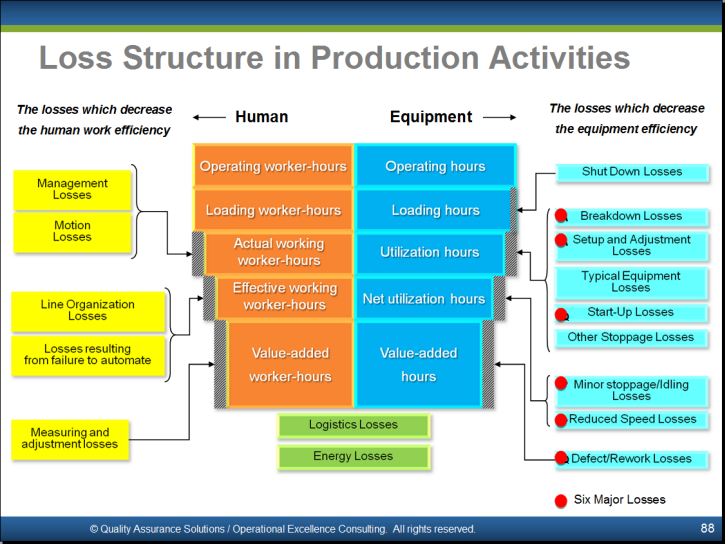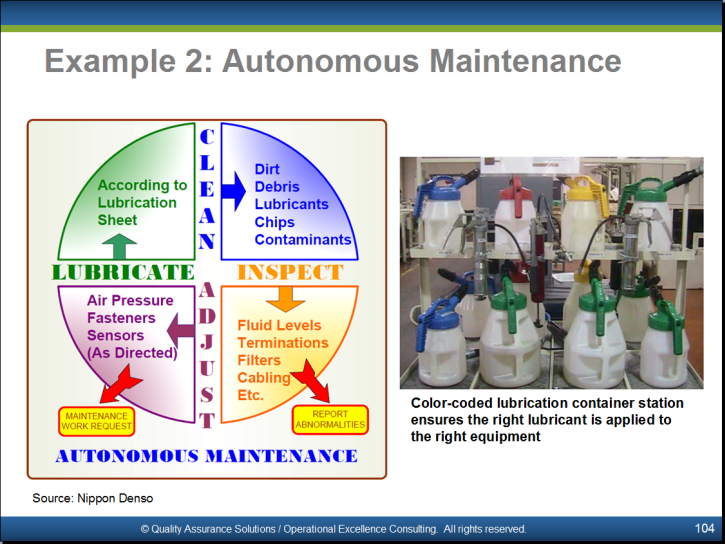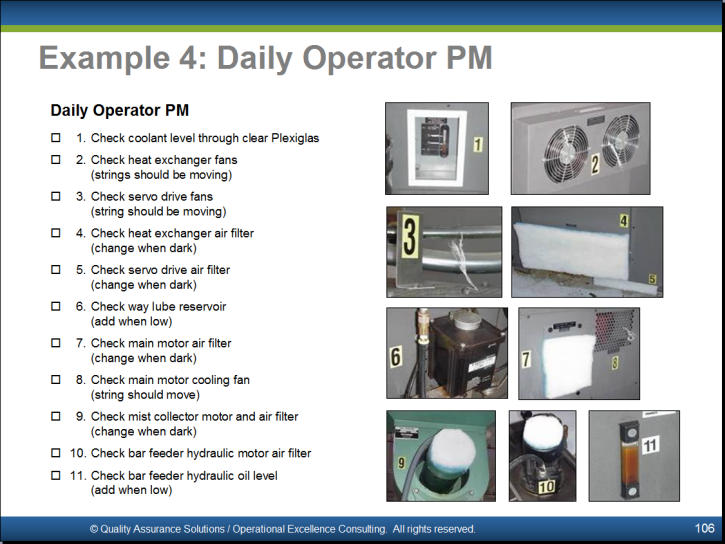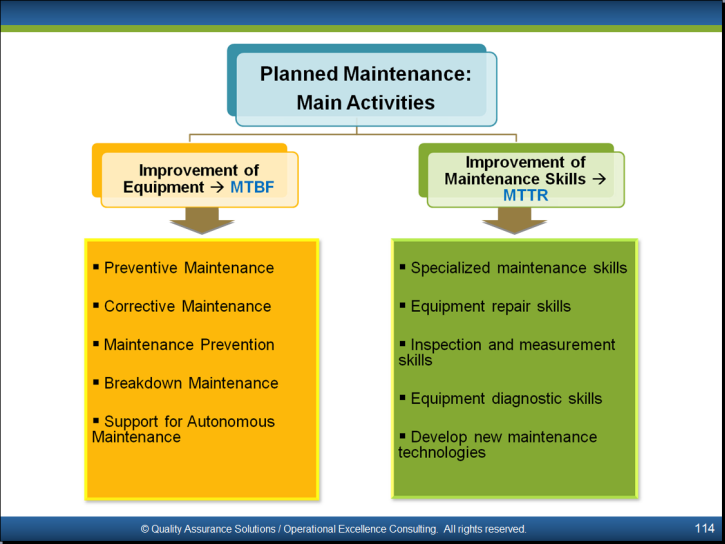 Total Productive Maintenance Training is one of our many PowerPoint Presentations