Training Presentation

Problem Solving Tools and Techniques
Save time, Train Problem Solving Tools, Improve your Workforce...
Do you want to implement a systematic approach to solving problems?
Do you need to train your staff on continuous improvement tools?
Do you want to assure problems are attacked and resolved in a methodical manner?
Is your staff new to solving problems and working in teams?
Do you want to present a professional powerpoint that will impress your employees, peers and the management team?
This professional presentation on Problem Solving Tools and Technique saves you a significant amount of time. If you created this presentation yourself you could easily spend 24 to 40 hours just making the slides. See below for pictures of some of the slides. Use this PowerPoint to teach your employees how to solve problems using a proven system and improvement tools.
| | |
| --- | --- |
| | After purchase, you will download this product, no waiting. Your Satisfaction is Guaranteed. Within 30 days, if you are not satisfied with this product, I will refund your money. |
Description
In this professionally-developed training presentation, you can teach the structured Plan-Do-Check-Act (PDCA) approach to problem solving. Many world class companies such as Toyota uses the PDCA problem solving process for relentless pursuit of continuous improvement. When combined with the basic quality tools, this system identifies problems, analyzes root causes and generates solutions. Teach your staff to put these effective solutions in place to prevent similar problems from recurringin the future.
How To Use the PowerPoint Training Presentation
Deliver this professionally-developed presentation to an audience as a 1-2 hour briefing to train employees on Problem Solving Tools and Technique. Use the slides in a workshop for managers and staff of the organization who need to understand the structure and importance of systematic problem solving.
You may customize this Microsoft PowerPoint presentation to your specific needs and preferences. Add slides, combine them with our other presentations, it's up to you. The only restriction is that the presentation cannot be resold without our prior written consent.
Objectives
Understand the principles and key concepts of problem solving
Learn how to apply the PDCA approach and basic quality tools to problem solving
Learn how to prepare an A3 problem solving report
Understand the roles of problem solving team
Define the critical success factors for effective problem solving
Contents
Introduction to Problem Solving

Methods to Increase Productivity
Three sources of Productivity Loss
Impact of Problem Solving
Problem Solving Philosophy
Benefits of Problem Solving

Concept of Problem Solving Teams

Philosophy & Objectives of Problem Solving Team
Fundamentals of Problem Solving Activities
Problem Solving Team's Maxims
Organizational Roles
Ingredients for Problem Solving Team Success

Overview of Process Management

Process Ownership
Process Definition & Documentation
Process Measurement
Process Improvement
Process Control

PDCA Approach to Problem Solving

Problem Solving Techniques
The PDCA Approach
Problem Solving Process – Step-by-step
Example & Practice Tips

Problem Solving Tools

Seven Basic Problem Solving Tools
Examples of the Basic Tools
Practice Tips
Other Useful Tools

Project Reporting Using A3 Storyboard

Introduction to A3 Storyboard
Relationship Between PDCA and The A3
Steps of A3 Storyboarding
Examples

10 Common Mistakes
Critical Success Factors
Problem Solving Tools

Slide Examples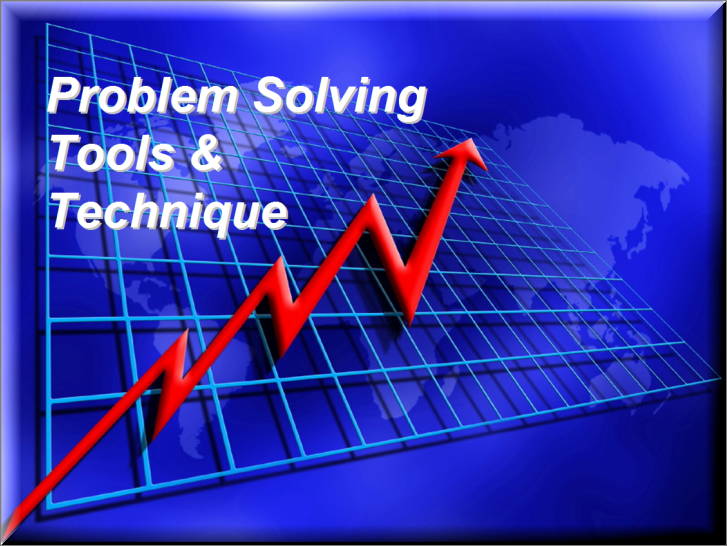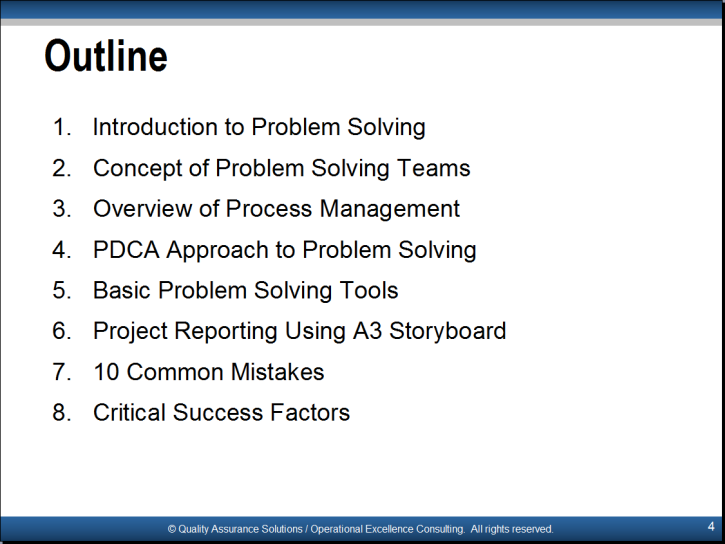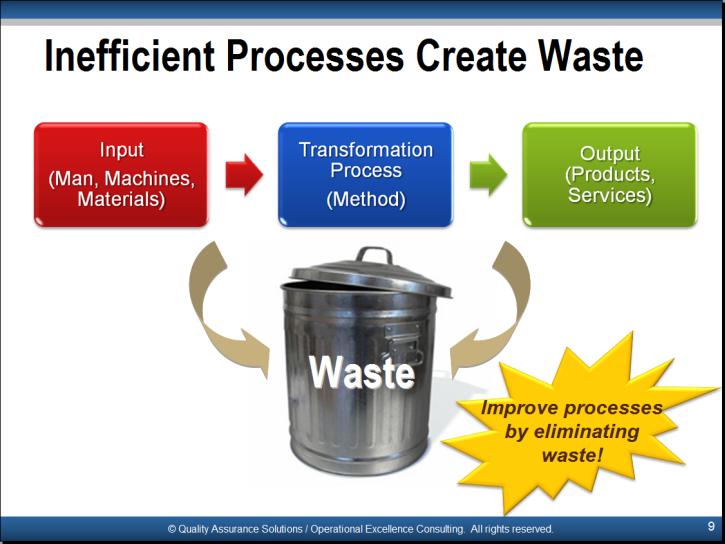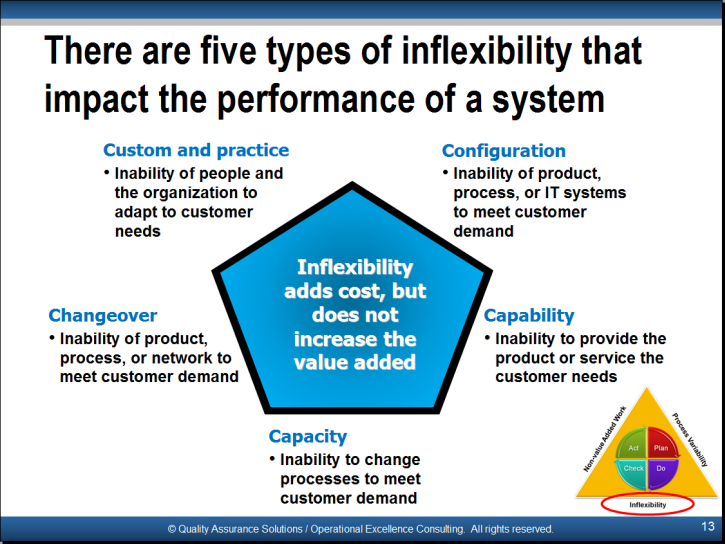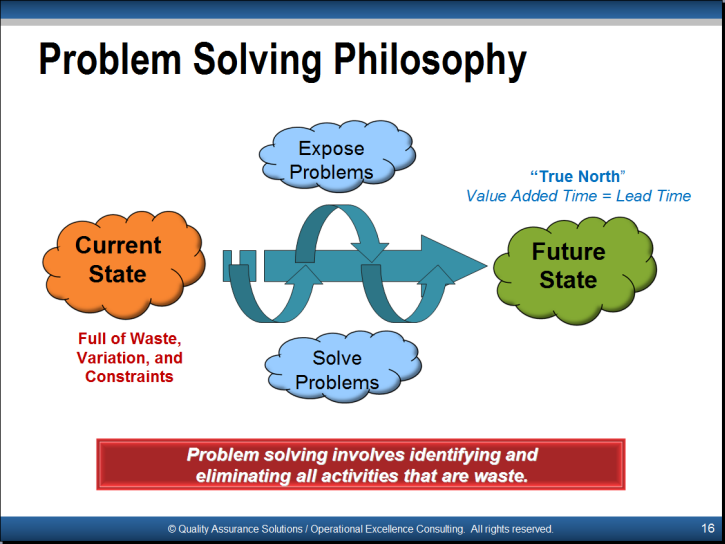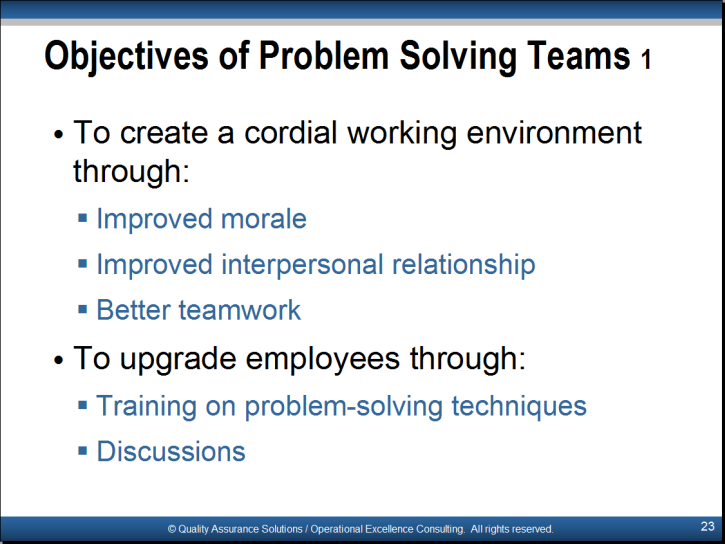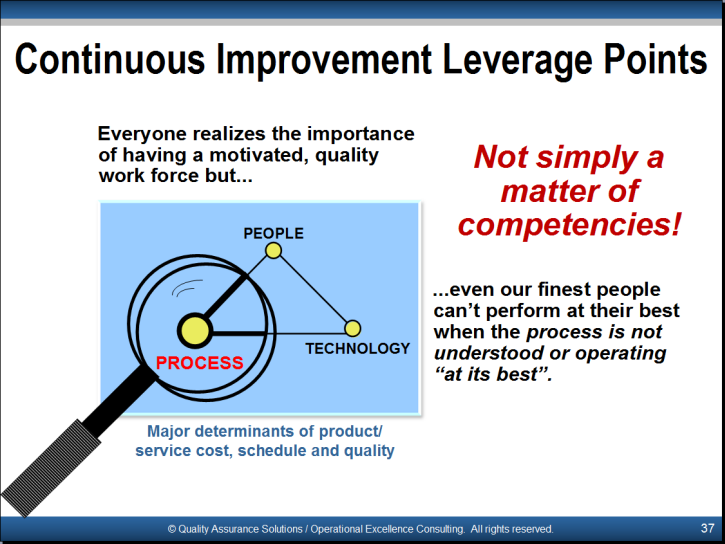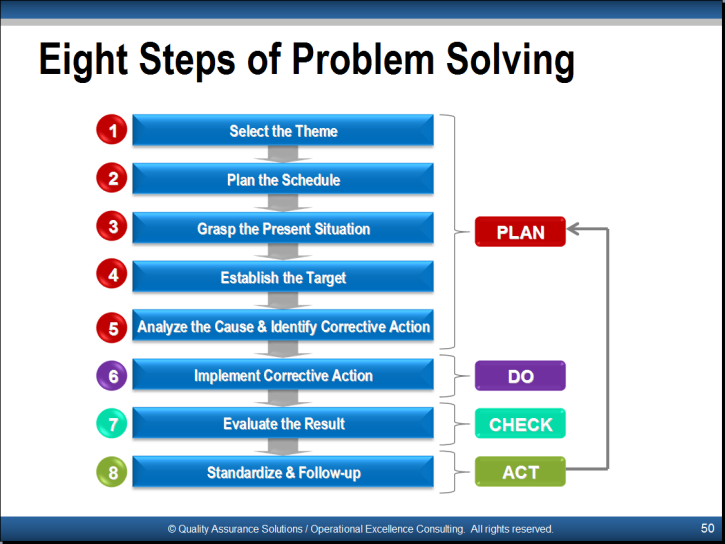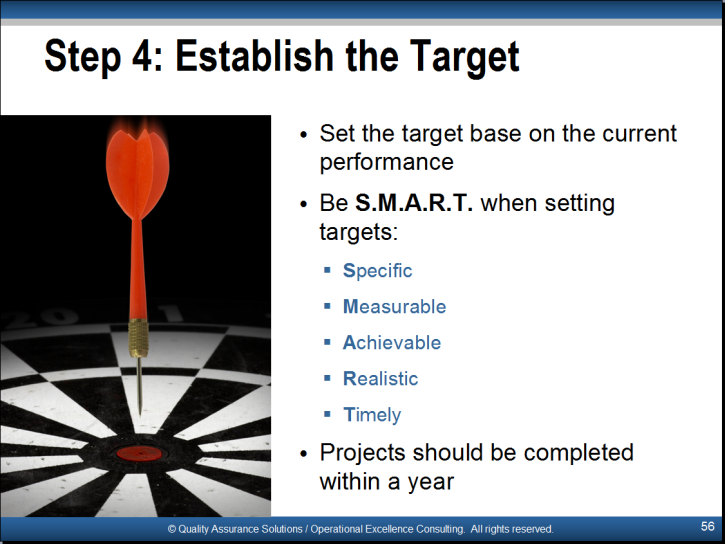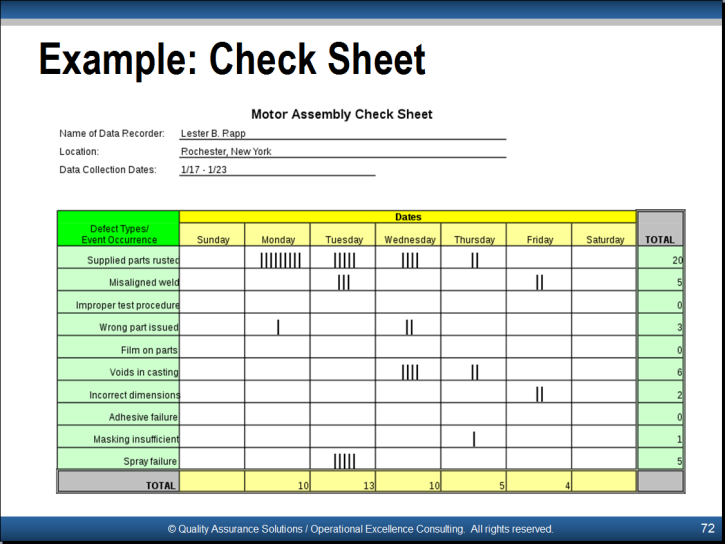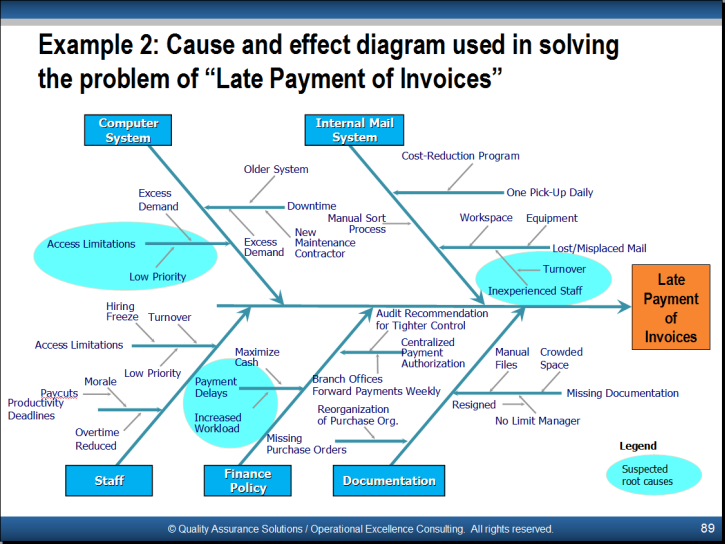 ISO 9001 Awareness is one of our many PowerPoint Presentations