Training Presentation

Hoshin Kanri
Save time, Train Hoshin Kanri, Quickly Improve your Company's Long Term Planning and Strategies...
Do you want to implement a systematic approach to strategic, tactical and operational planning to your company?
Do you need to train your staff on the Hoshin Kanri method?
Is your staff new to long term company planning, setting goals, and assuring you meet those goals?
Do you want to present a professional powerpoint that will impress your employees, peers and the management team?
This professional presentation saves you a significant amount of time. If you created this presentation yourself you could easily spend 24 to 40 hours just making the slides. See below for pictures of some of the slides. Use this PowerPoint to teach your employees how to quickly improve your company's planning by applying the Hoshin Kanri Technique.
| | |
| --- | --- |
| | After purchase, you will download this product, no waiting. Your Satisfaction is Guaranteed. Within 30 days, if you are not satisfied with this product, I will refund your money. |
Description
Hoshin Kanri (a.k.a. Policy Deployment or Hoshin Planning) is a powerful, systematic Strategic Planning methodology that uses a Plan-Do-Check-Act cycle to create goals, choose control measures and link daily control activities to the company's strategy. It involves a key business metrics as the driving force of alignment, clarification and employee involvement. The methodology continues to be used by some of the world's most successful companies such as Toyota, Hewlett-Packard and Bank of America.
How To Use the PowerPoint Training Presentation
Deliver this professionally-developed presentation to an audience as a 1-2 hour briefing to train employees on Hoshin Planning. Use the slides in a workshop for managers and staff of the organization who need to understand the structure and importance of Hoshin Kanri
This presentation package includes a set of ready-to-use templates (e.g. X Matrix, Alignment & Deployment Chart, A3 report, etc.) which you can freely modify according to your needs.
You may customize this Microsoft PowerPoint presentation to your specific needs and preferences. Add slides, combine them with our other presentations, it's up to you. The only restriction is that the presentation cannot be resold without our prior written consent.
Number of slides: 135
Benefits
Focuses the entire company on a few vital goals, rather than the trivial many
Creates alignment towards breakthrough objectives through involvement of the whole management team in the planning process
Communicates the key goals to all managers and staff
Integrates and encourages cross-functional cooperation to achieve breakthroughs
A review process which holds participants accountable for achieving their part of the plan
Objectives
Gain an understanding of the principles and key concepts
Define the Hoshin Planning process, tools and key elements
Provide step-by-step approach to planning implementation and review process for managed change
Gain practical knowledge and skills in applying the Hoshin Kanri process and tools
Contents
Introduction to Hoshin Kanri (HK)
What is HK?
Purpose of HK
Linkages of Hoshin Kanri, Balanced Scorecard & MBO
Comparison of HK with MBO
Underlying Principles of Hoshin Kanri
Plan-Do-Check–Act Cycle
Pareto Principle
Cause-and-Effect Relationship
HK Process Using PDCA Approach
Review of Strategic Planning Process
HK Cascade
HK Steps
Hoshin Kanri Incorporating the Balanced Scorecard
Top Management Objective Setting
Deployment to Department Managers
Operationalize through Projects
Performance Review
X Matrix
Alignment & Deployment Chart
Management Control Chart
Daily Management Matrix
A3 Report
Performance Measurements
Breakthrough Hoshin
Daily Management
Cross-functional Management
Types of Reviews
Checklist & Guidelines for Reviews
Critical Success Factors
Summary & Closing Comments
Slide Examples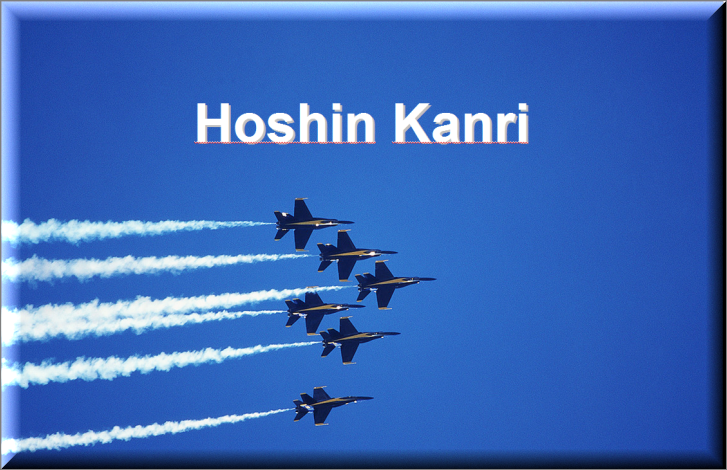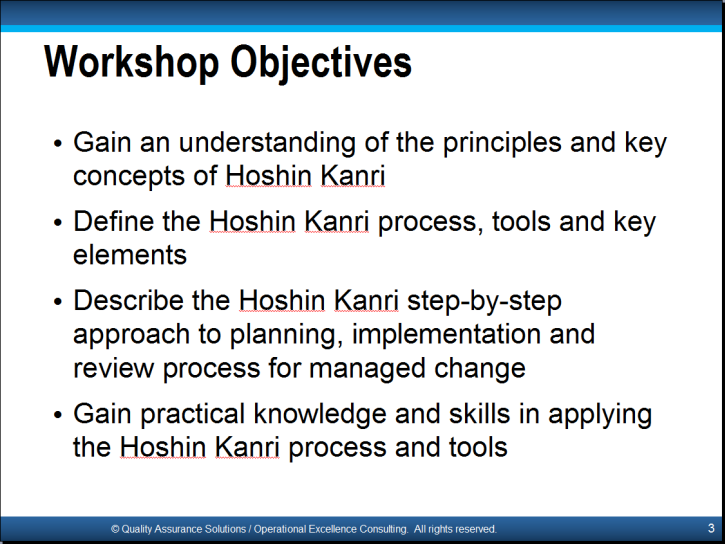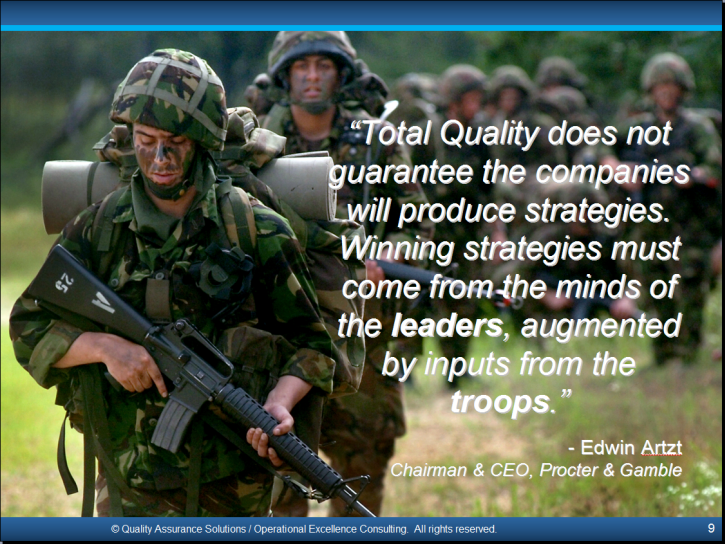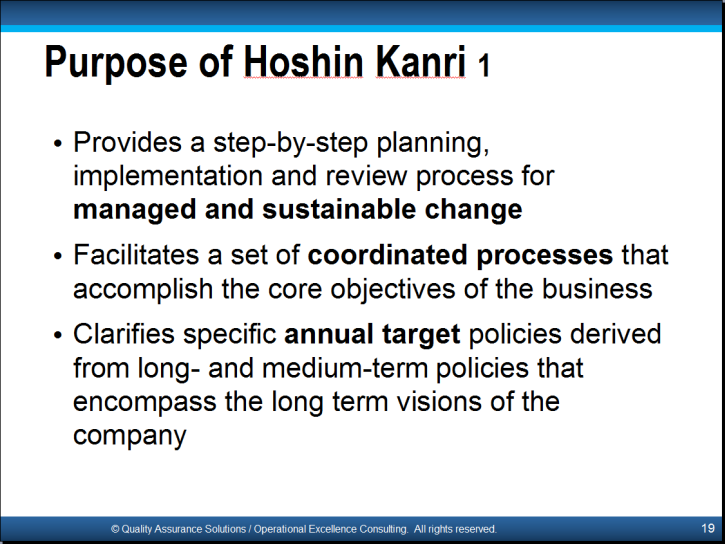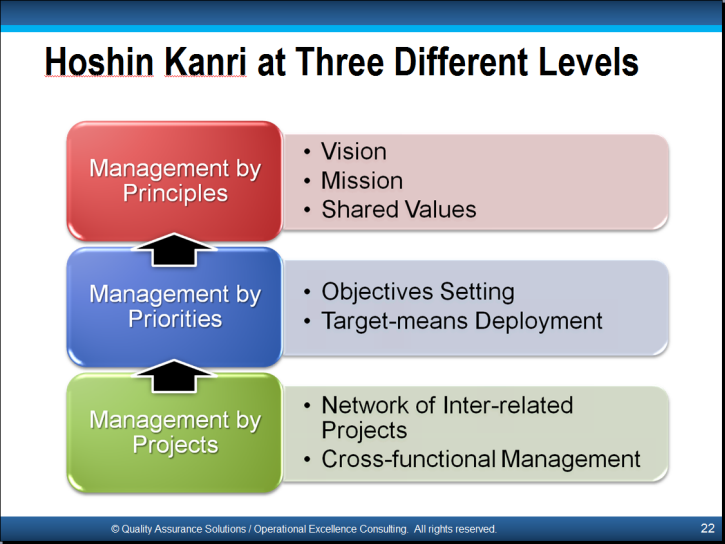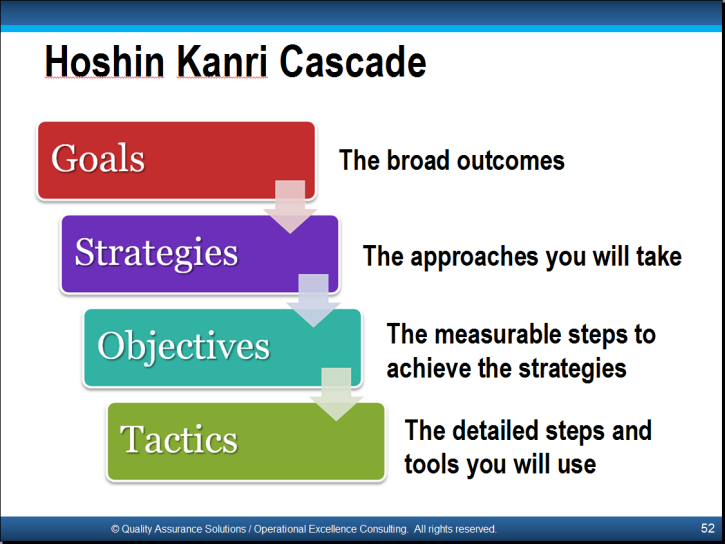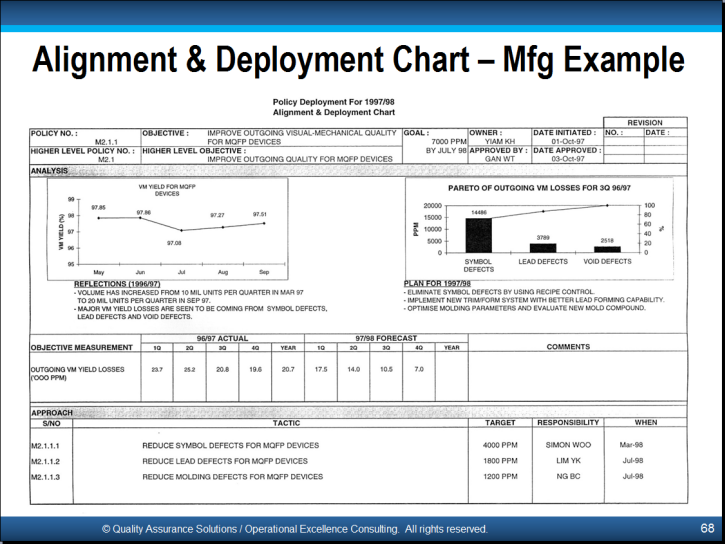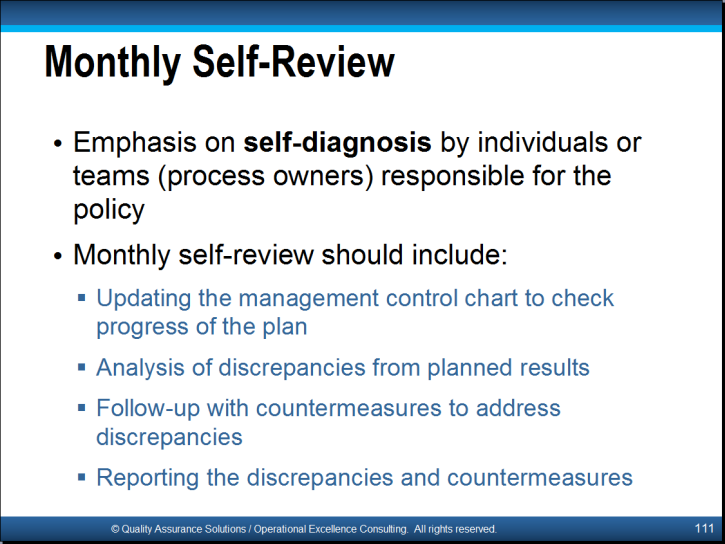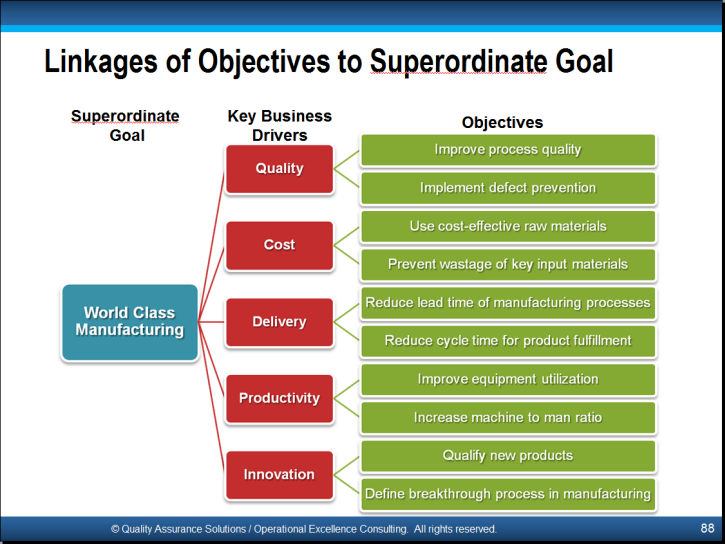 Hoshin Kanri Training is one of our many PowerPoint Presentations