Training Presentation

Benchmarking for World Class Performance
Save Time, Train, and Implement the Benchmarking Process with this Proven System...
Do you need to provide Benchmarking training to your company?
Do you need to save time from creating the Benchmarking presentation?
Do you want to present a professional PowerPoint that will impress your employees, peers and the management team?
Do you want to use a proven Benchmarking system within your company?
This professional presentation on the benchmarking details the key 4 phases and the 10 important implementation steps to drive the benchmarking process within your company. If you created this presentation yourself you could easily spend 24 to 40 hours just making the slides. See below for pictures of some of the slides. Use this PowerPoint and assure you don't forget the important benchmarking strategies during your benchmarking training.
| | |
| --- | --- |
| | After purchase, you will download this product, no waiting. Your Satisfaction is Guaranteed. Within 30 days, if you are not satisfied with this product, I will refund your money. |
Benchmarking Training Description
Benchmarking searches for the best methods, practices and processes. You company adopts or adapts these features to become the "best of the best." To become the best-in-class, your organization needs to implement the right process to get there.
This PowerPoint presentation includes...
What is benchmarking
The advantages of benchmarking
The various types of benchmarking,
Identifying what to benchmark
A detailed step by step guidance on how to systematically carry out a benchmarking project
Useful tips on the benchmarking process
Benchmarking training etiquettes
The critical success factors.
How To Use the PowerPoint Training Presentation
Deliver this professionally-developed presentation to your entire staff as a 1-2 hour briefing to teach the benchmarking system. Use the slides in a workshop for managers and staff of the organization who need to understand the basics and importance of benchmarking implementation and system.
You may customize this Microsoft PowerPoint presentation to your specific needs and preferences. Add slides, combine them with our other presentations, it's up to you. The only restriction is that the presentation cannot be resold without our prior written consent.
Objectives
Understand Benchmarking
Carry out Benchmarking projects systematically based on a the four-phase, ten-step Fuji-Xerox Benchmarking model
Contents
Introduction to Benchmarking
What is Benchmarking?
Why Benchmark?
Four Phases of Benchmarking
Preparation for Benchmarking
The Benchmarking tools
Step-by-step: Fuji-Xerox Benchmarking Process

Step 1: What to benchmark?
Step 2: Whom to benchmark?
Step 3: Data collection
Step 4: Determine current performance "gap"
Step 5: Project future performance levels
Step 6: Communicate findings & gain acceptance
Step 7 Establish goals
Step 8: Develop action plans
Step 9: implement actions & monitor progress
Step 10: Re-calibrate benchmarks

Critical Success Factors
Slide Examples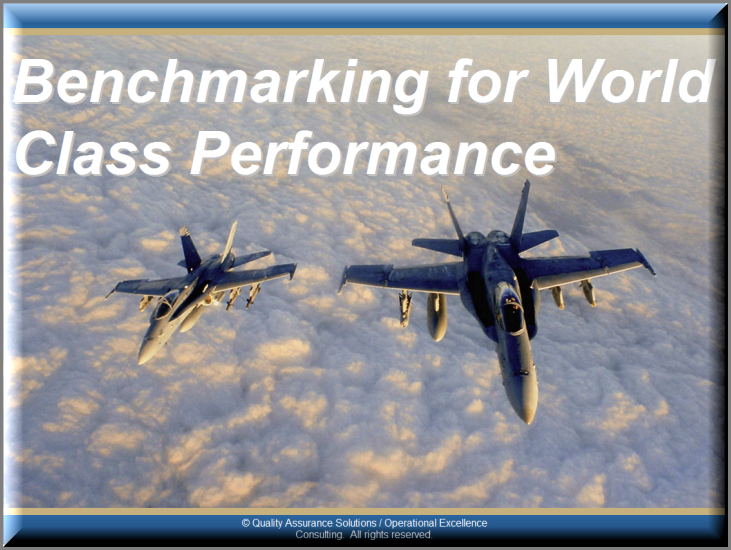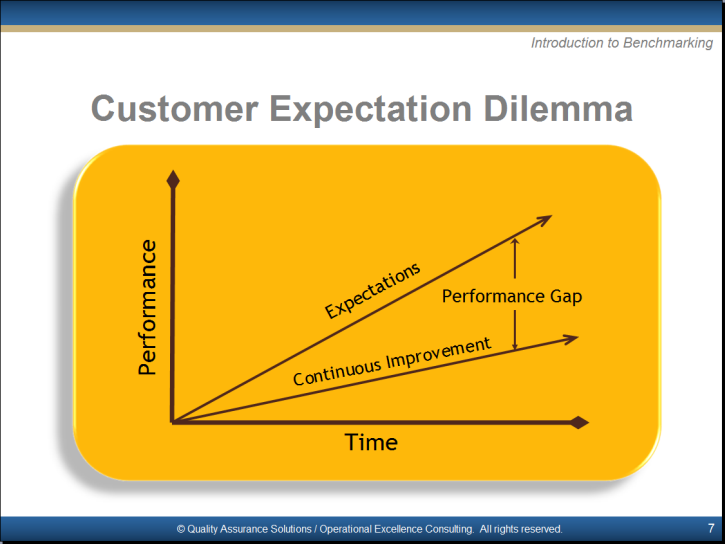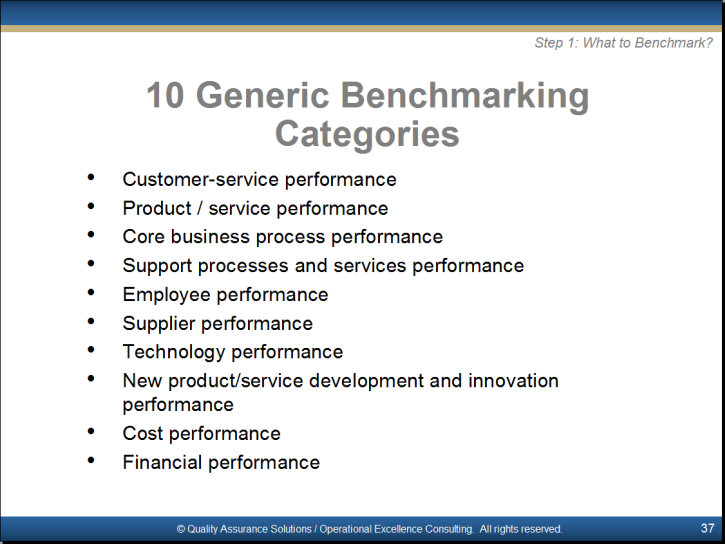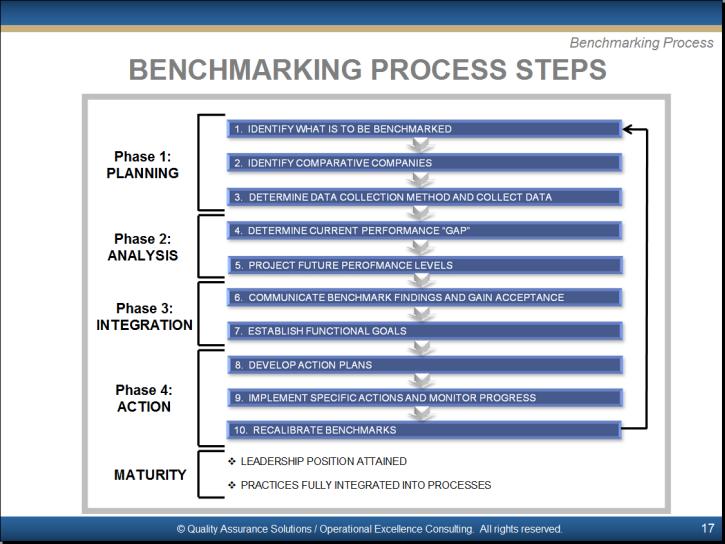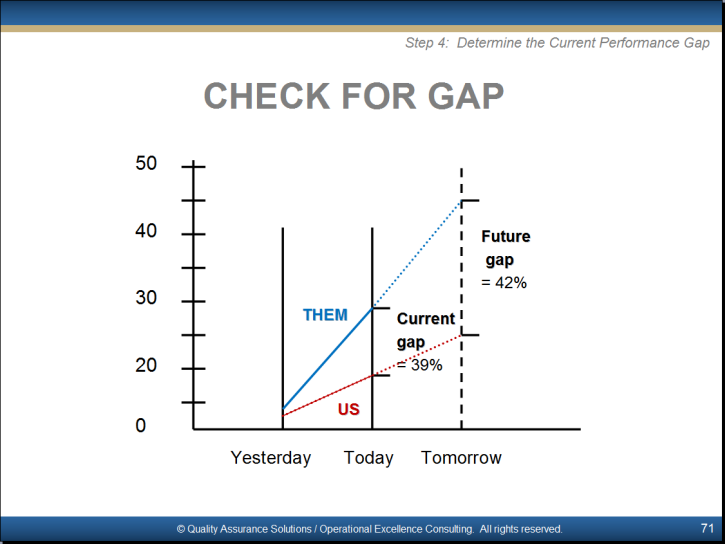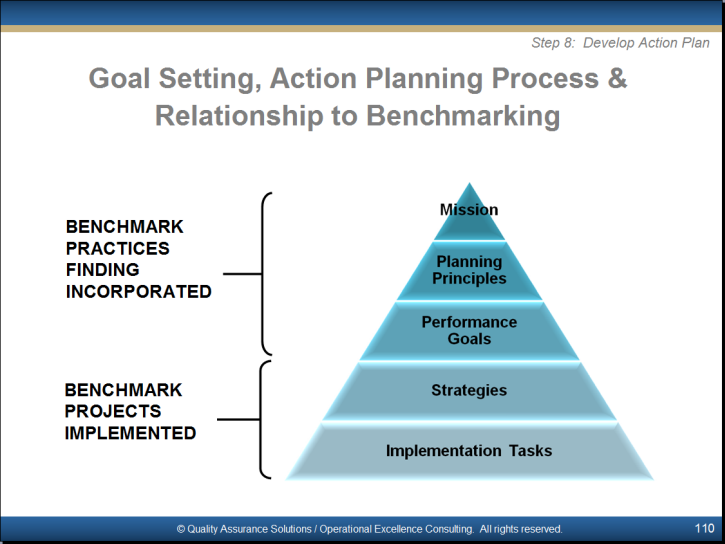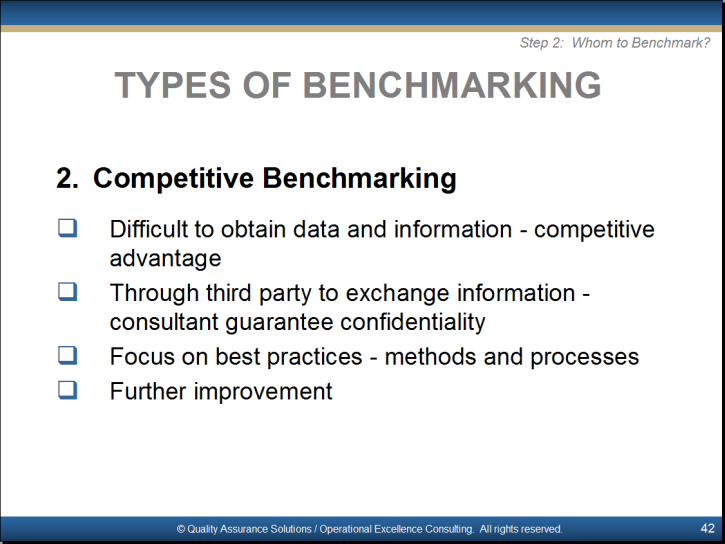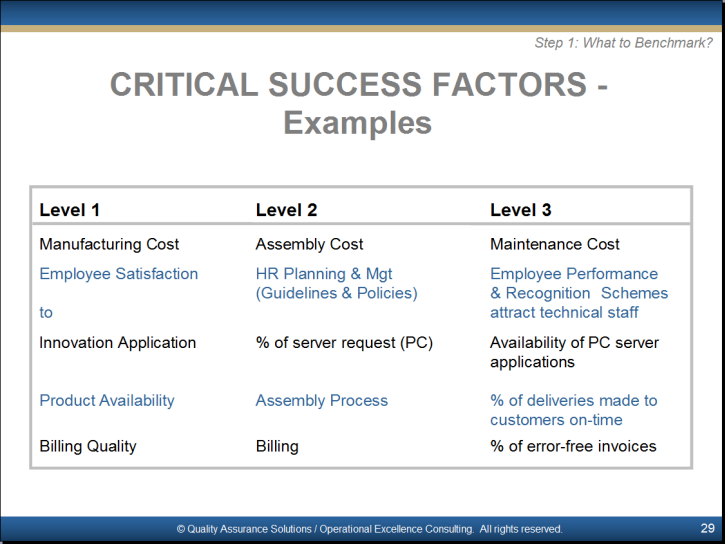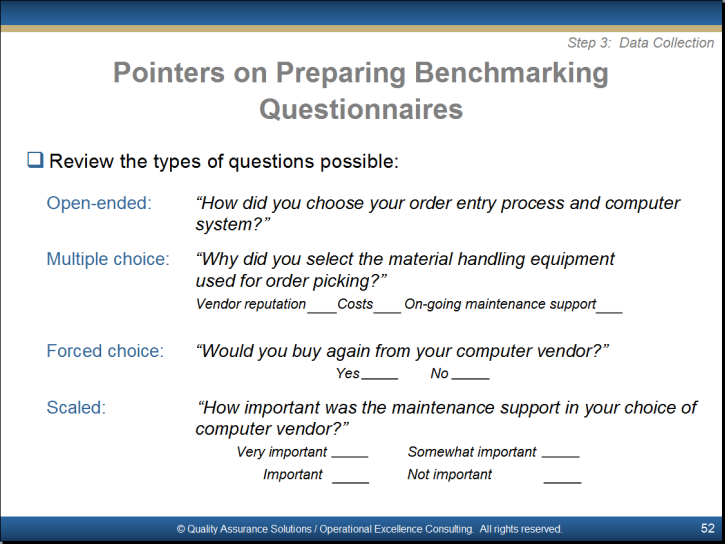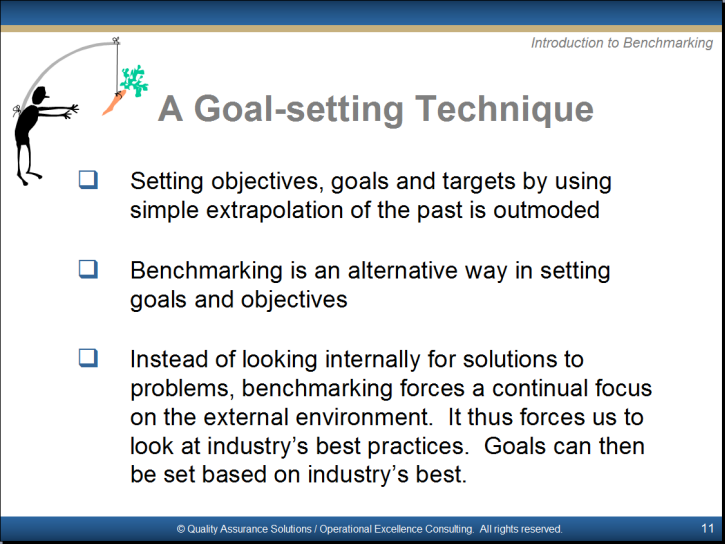 Benchmarking Training is one of our many PowerPoint Presentations