Training Presentation

5S Process for High Workplace Productivity
Save Time, Train, Implement and Sustain Lean 5S at your company
Do you need to teach the lean 5S process to your company?
Do you need to save time from creating the 5S presentation?
Do you want to present a professional PowerPoint that will impress your employees, peers and the management team?
Do you want to kick start your Lean 5S program implementation?
Do you need to maintain and sustain your 5S program?
This professional presentation on 5S implementation, maintenance, and visual management saves you a significant amount of time. If you created this presentation yourself you could easily spend 24 to 40 hours just making the slides. See below for pictures of some of the slides. Use this PowerPoint and assure you don't forget the important 5S strategies during your 5S training.
| | |
| --- | --- |
| | After purchase, you will download this product, no waiting. Your Satisfaction is Guaranteed. Within 30 days, if you are not satisfied with this product, I will refund your money. |
5S Process Description
The 5S workplace organization system applies a set of basic management principles that many companies widely adopt to maximize productivity and organization. As a cornerstone of lean management, 5S improves workplace morale, safety and efficiency.
In this training presentation, you will learn how to mobilize and align your management team to launch or improve a 5S process and Visual Management implementation in your organization. The presentation covers 5S and Visual Management best practices, step-by-stepimplementation guidance, and the best ways to integrate lean 5S into the organization's culture to achieve sustainable world-class excellence.
This PowerPoint includes...
The principles of 5S
The benefits of Visual Management
The application of 5S in the shop floor and the office
The necessary infrastructure.
Initial implementation
Future refinement
Audit systems
How To Use the PowerPoint Training Presentation
Deliver this professionally-developed presentation to your entire staff as a 1-2 hour briefing to teach the 5S system. Use the slides in a workshop for managers and staff of the organization who need to understand the basics and importance of 5S implementation and sustainability.
You may customize this Microsoft PowerPoint presentation to your specific needs and preferences. Add slides, combine them with our other presentations, it's up to you. The only restriction is that the presentation cannot be resold without our prior written consent.
Objectives
Understand the benefits of working in a clean and neat environment
Identify waste in the work environment
Understand the meaning and applications of 5S principles
Apply visual management tools and enhance workplace organization
Design and implement a 5S audit system
Define the right conditions to sustain 5S process
Implement a 5S management review process
Define the critical success factors for lean 5S implementation
Contents
Introduction & Overview
5S Provides a Solid Foundation to Lean Implementation
Types of waste in the Workplace
What is 5S?
Benefits of 5S process
5S Principles - Step By Step

1S: Seiri (Sort)

Principle & Meaning
Sorting by Frequency of Use
Red Tagging
Examples

2S: Seiton (Set in Order)

Principle & Meaning
Lines, Signs and Labels
Examples

3S: Seiso (Shine)

Principle & Meaning
3-Step Approach to Cleaning
Examples

4S: Seiketsu (Standardize)

Principle & Meaning
Examples

5S: Shitsuke (Sustain)

Principle & Meaning
Examples

How to Conduct a Red Tagging Exercise
Creating a Visual Workplace
Applying 5S to:

Safety
Quality
Equipment Reliability
Productivity

5S in the Office
How to Implement 5S
How to Sustain 5S
5S Audit System
Supporting Lean Tools for 5S
Critical Success Factors
Slide Examples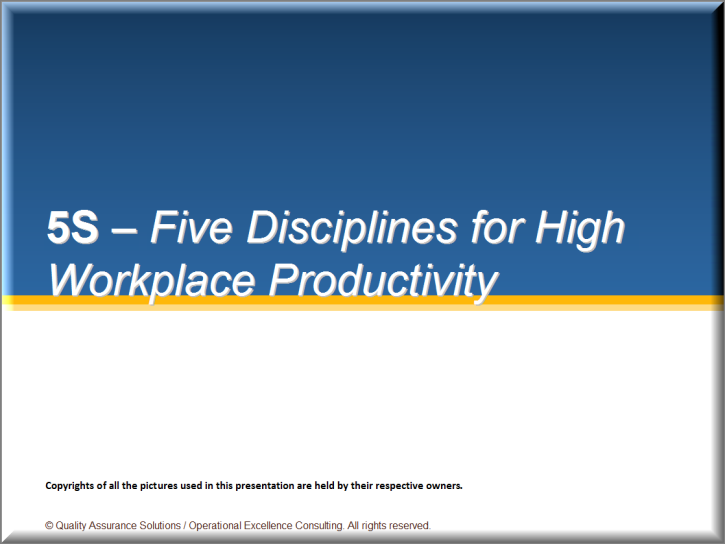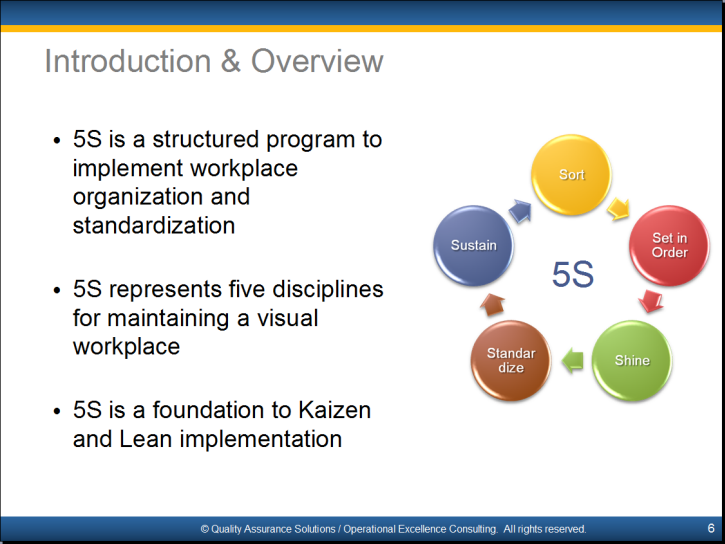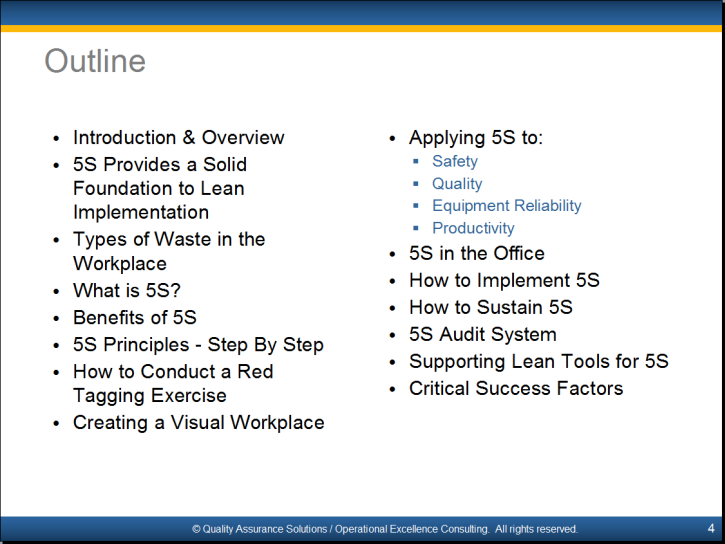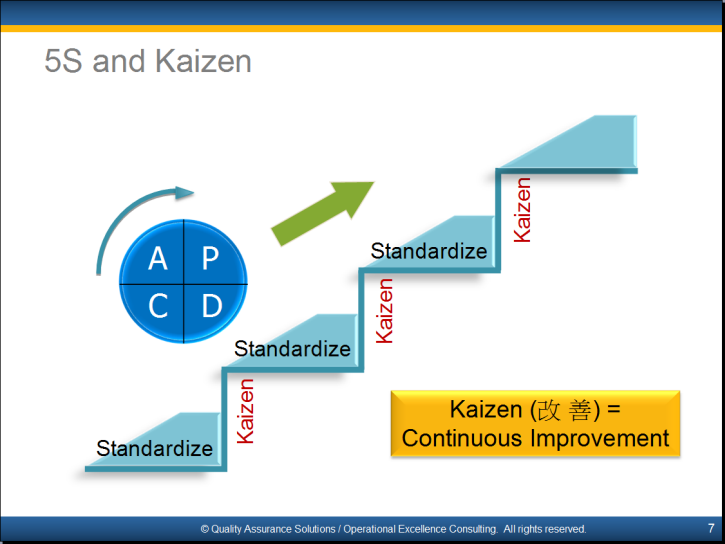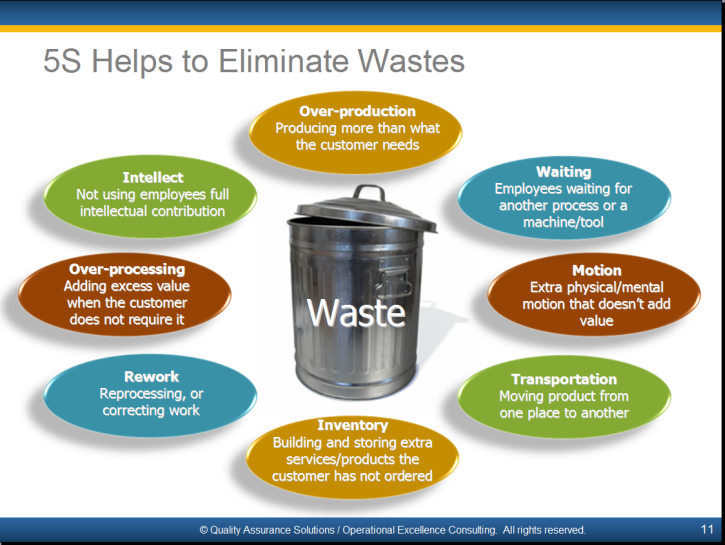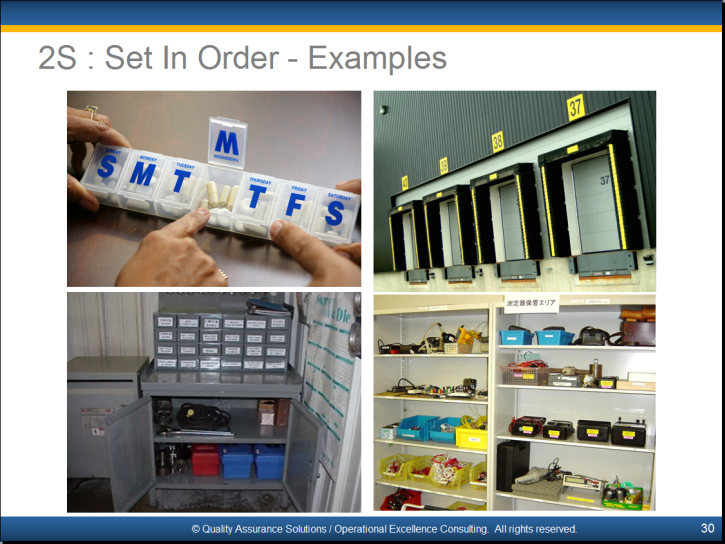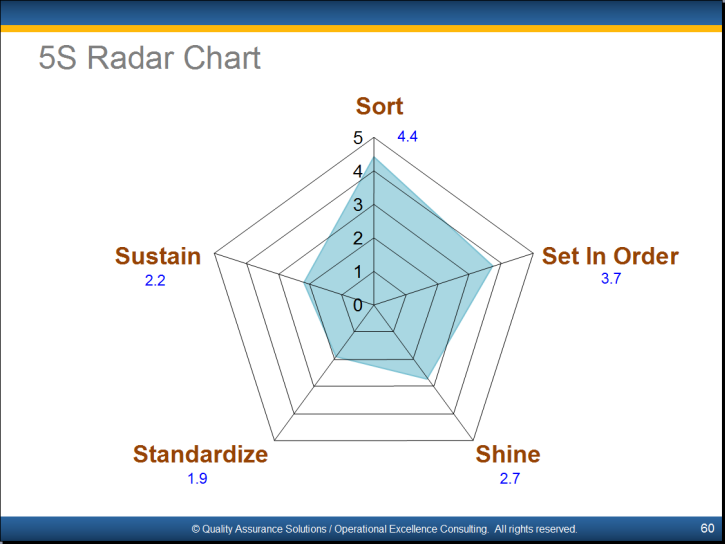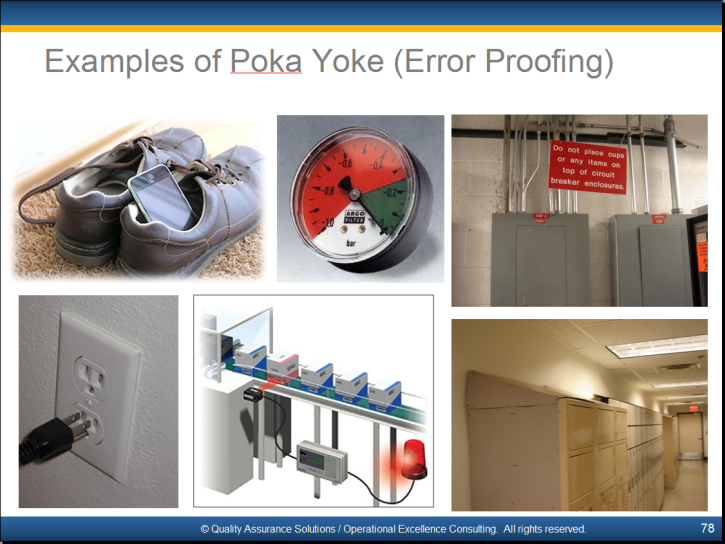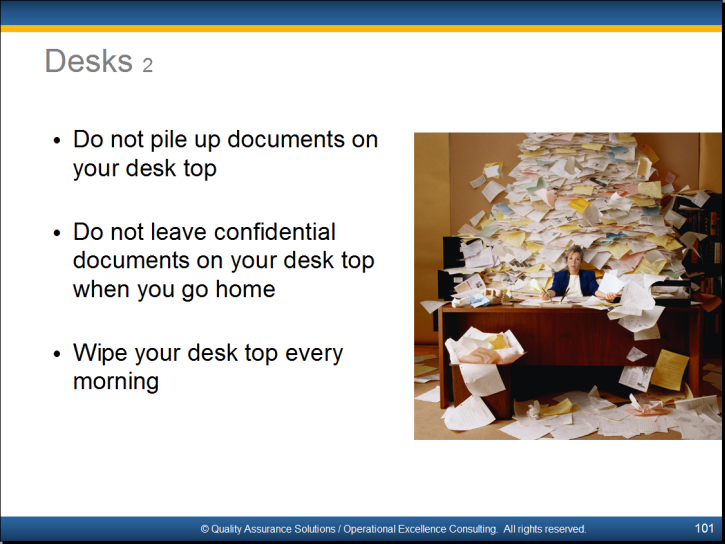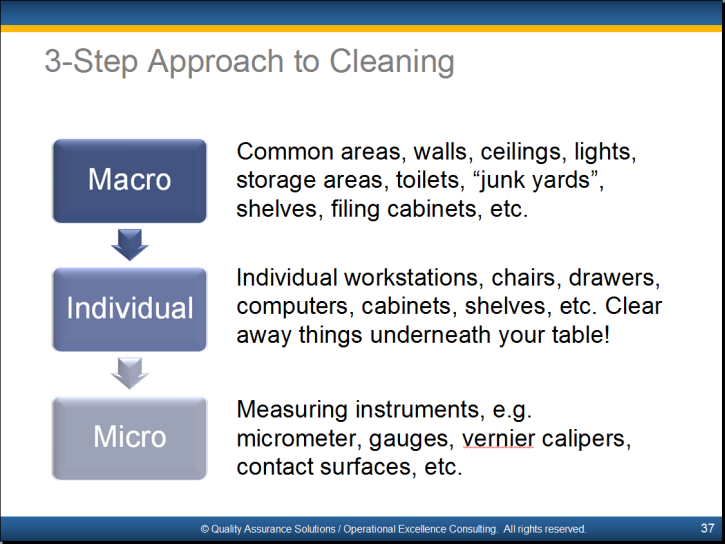 5S Process is one of our many PowerPoint Presentations