8D Manager FAQ
How Does 8D Manager Benefit Our Customers?
Your customers take corrective action seriously. They expect thorough evaluation and resolution of the problem. The more professional your approach, the more satisfied the customer. 8D Manager helps you handle corrective actions in a thorough step by step manner.
The presentation of the corrective action report is key to impressing your customer. It shows the customer that you take their complaints seriously. 8D Manager produces professional corrective action reports which include 8D, 9D, 5Y, 4M and standard form. Best of all, you don't have to worry about formatting the reports.
Your customer also wants you to track the progress of the corrective action. They will ask for status updates of the corrective action items. With 8D Manager you can quickly provide the status. If the situation is urgent, you can quickly bring up the corrective action, the customer complaint, and all other supporting documents.
8D Manager prevents you from unnecessary embarrassment. Before submitting the corrective action report to your customer, you can quickly review all of the previous corrective actions for that customer. 8D Manager prevents you from reporting the same causes / actions for different corrective actions.
We don't conduct 8D analysis, will this software be useful for our corrective action process?

Yes. The software includes a standard corrective action form that includes containment and corrective actions. No matter your corrective action approach, 8D Manager lets you manage and track all of your corrective actions in one place.
Can this software help us meet ISO requirements?

Absolutely. 8D Manager will impress your auditor for internal corrective action, external corrective action, and preventive action tracking. In addition the software package includes a corrective / preventive action procedure.
What is the difference between Version 3 and Version 2?

Version 3 is a major update from version 2.
Version 3 adds:
9D Reports for safety / risk actions
4M Reports similar to fishbone with assignable action item and root cause investigation
8D, 5Y, 4M templates for meetings and supplier issues.
Improved traceabilities lets you assign form names, form numbers to fit your documentation system.
Assign unique codes to each action. Track costs for these codes.
Extensive cost metrics. See costs by your unique codes, by customer, by action type, etc.
Pareto charts for costs and counts.
Extensive drop down lists lets you add your own categories, employees, codes, etc.

What is the difference between Version 2 and Version 1?

Version 2 is a major upgrade.
Version 2 adds:
5Y Report for each 8D Report
New corrective action standard form
Print list of all open actions
Improved email
Metrics for corrective action
Quick copy from one 8D report to another new one
Fix, Repair and compact option
Expanded traceability labels
Improved menus

The traceabilities on the 8D form doesn't match our company's needs.

We completely understand this. Not a problem. You can change all of the traceabilities to match your terms. These will change on all the forms and reports. You change these on the setup page
Can I email the 8D form to my customer?

Yes. Two options for this. You can send the form as a snap shot, or as a pdf file.
How many 8D reports does the software hold?

Unlimited.

How many action items can I track per 8D?

Unlimited.

Since I don't know Microsoft Access, will I be able to use the software?

Yes, you don't need to know anything about Microsoft Access. You probably won't need it, but included with the software is a pictorial instruction manual that provides step by step instructions.
Why did you use Microsoft Access to build the application?

We selected Access to keep the price of the software down. With Access, all users within your company can edit and view the software at the same time. In addition, Access also allows for unlimited amount of records. Since most of our customers have Access installed with Microsoft Office, it makes a great application / database backbone.

Why are there two different versions Microsoft Access and non Microsoft Access?

Both versions are Microsoft Access based. The non Microsoft Access includes a run time version of Microsoft access. If you have Microsoft Access on your computer then select the Microsoft Access version.
Besides the above, they are exactly the same with regards to features and use.
We have limited employees with MS Access, which version do you recommend? What would happen if someone that had MS Access and opened the the other version?

I recommend the Microsoft Access version. MS Access by itself will not open the non access version. You may run into problems if you install the non access version on a computer that has Microsoft Access. This is due to Microsoft access conflicts. If you plan on multiple users at one location then select per plan A or B below.
1) Plan A: Use the Microsoft Access version and make sure every user who needs the software has Microsoft access (preferred)
2) Plan B: Use the Non access version but make sure every user who needs the software does not have Microsoft access.
If you purchase the Non Access version and later install MS Access, please notify us. We can help you convert your program for use with MS Access.
How do I know if I have Microsoft Access?

Click Start > Select All Programs > Select Microsoft Office > Check and see if Microsoft Access is listed. If Access is not listed then buy the non-Microsoft Access version.
What version of Microsoft Access do I need to run the application?

Microsoft Access Version 2003 or greater will work with 8D Manager. This includes Access 2003, 2007, 2010, 2013. 2016 and Office 365.

Why is our IT department concerned with MS Access?

I'm not sure about that one. In the mid 90s MS Access had some rare problems when the database got too big. However, Microsoft addressed these issues a long time ago.
Does the software connect to the internet?
No.

Does the software contain any mal-ware or harmful macros? Harmful sub routines? Harmful coding?

No.

Since it is Microsoft Access, can I modify the software?

No.

But, my company needs something that the software doesn't include.

Please feel free to contact us with your specific needs. We may be able to modify it to meet your needs.

Can I review the manual before I buy?

Sure. Right click to download the Manual

Are there any cost or other implications for multiple users?

Yes. The license for 8D Manager is per user and computer. (see next section) Each subsequent license purchased by the same buyer is only $25.00.  After initial purchase, we provide links for the buyer to purchase the additional licenses.
When placed on your network, all licensed users can access the same the data at the same time. 

What is the license agreement?

Each user on each PC will need a license. If they want to use the software on multiple PCs, they will need a license for each PC. 
If you have a user who uses the software from multiple remote terminals with the same login credentials on each terminal then that user only needs one license.
If you have multiple users on the same PC, each with different login credentials then each user will need a license. If they share the same login credentials then you will only need one license.
8D Manager generates an unique serial number for each user & PC combination per above. After purchase, the buyer emails serial number(s) to us at rcbhome@comcast.net or support@quality-assurance-solutions.com. We provide these instructions within the software. Within 24 hours (usually within 1 hour) we will provide the unlock numbers(s) for that computer.
As a license user how does updates / upgrades work with regards to software costs?

During a limited time we will charge a reduce amount for the upgraded software. This is a one time fee and all other license users for the business data receive the update at no additional costs. This will include transferring your data to the new revision. Past that time, we charge the full amount of the new software. But this includes transferring your data as this is a manual process.
Previous versions had unlimited users (with no license per computer) at one business location. We no longer support this model. In this case you still receive the update at a lower costs but all additional computers will need to purchase licenses.

The software doesn't meet our needs.
Sorry to hear about that. We offer a 30 day money back guarantee. Just send us an email.  
What about Support?

We want to make sure you get up and running with the software. If you have any installation issues please send us an email. We usually answer within an hour and at the latest 24 hours, and that includes Holidays. Also feel free to ask about anything else with regards to the software.

---
Using the Software...
Is it Windows 7 / 8 / 10 compatible?
8D Manager is compatible with Windows XP, Vista, Windows 7, Windows 8 and Windows 10.

How do you configure 8D Manager for multiple users?

To work with multiple users, put the 8DManagerV3.mdb file in a known directory on the server.
Give users access to that file on the server.

Be sure the user has full Read/Write permissions.
Also be sure that all users have Microsoft Access installed on their computers.
Purchase a license for each computer. See here for details
If you purchased the non-MS Access version
Place 8DManager.accdr on the server.
Make sure each user does not have Microsoft Access
Run setup.exe on each user computer
Create shortcuts to 8DManager.accdr that is on the server
Delete the local 8DManager.accdr as that might cause confusion.
Purchase a license for each computer. See here for details
Whenever I enter some data and delete that data completely in any of the "Containment, Root Cause, Corrective Action and Preventive Action" fields, I am getting an extra blank field in that section when I print the form. Please let me know how can I stop it?

To completely delete the data row, you need to delete the entire row. Click on the grey box that starts the row and then hit the delete key.
Sometimes the sequence (1, 2, 3) gets jumbled in "Containment, Root Cause, Corrective Action and Preventive Action" section. How can I avoid it?

You can number the actions with a given sequence. This lets you present the information in a orderly manner. When you are working on the form you can renumber the actions. Based on your input, the sequence correctly resets itself when you close the form and then reopen. This fixes the problem.
I purchased the 8D Manager but when I open it tells me it is a read only and I cant change or add information.

After purchase you will download a zip file. You get this issue when you are running the program from the zipped file. Right click on the zip file and select extract all. Be sure to extract the file to a known directory.
When I open 8D Manager I get error messages about macros

8D Manager uses macros for some of its coding. This is an easy problem to fix. You will need to enable macros within Microsoft Access. 8DManager.pdf that came with the software has pictorial instructions on how do this. You will only need to do this once.

When I open 8D Manager I get an error message on missing mscal.ocx file.

Within the downloaded zip file for the software there is a file called mscal.ocx. Copy this file to the directory that contains msaccess.exe.

---
---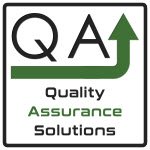 Quality Assurance Solutions
Robert Broughton
(805) 419-3344
USA
email